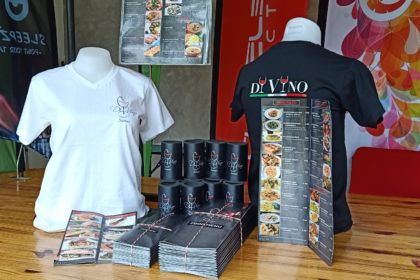 Divino is an Italian restaurant that will open on Lamai Promenade in October 2019. The building has been completely renovated and at the same time made modern restaurant solutions such as food elevator and electronic bong system. All the equipment of the restaurant from the coffee makers to the top class ovens and cooking system guarantee best Italian food experience.
Advertising materials from Chameleon Production
The Divino owner has a clear vision of what the restaurant will look like and what the corporate image is. There were a lot of products and ideas that were very easily agreed upon, most important of course is the food and beverage menu design.
Menu materials:
card art 260gsm paper
30 micron gloss lamination film
food menu A3 size
drink menu A4 size
digital printing technique
At the same time as the menu design was completed, we printed with silk screen technology on workers' t-shirts. The t-shirts are made from high quality Thai cotton and the result is very high quality and low cost to the customer when order from Chameleon Production.
Bottle Coolers
Last but not least product in this project is bottle cooler. Thailand standard equipment for restaurants keeping beers and soft drinks cold from the first drop to the last. We can print all the pictures and logos you want on the bottle cooler. When ordering bottle cooler, be sure to buy the right size for bottles and cans. We have 5 standard sizes and custom sizes also available.
Please go back to portfolio